2016 A3 Workshop on Interdisciplinary Research Connecting Mathematics and Biology
2016-04-22 ~ 2016-04-24
Lecture Hall, Jiayibing Building,Jingchunyuan 82, BICMR
Poster
Program
Organizing committee
Lei Zhang (Peking University, China)
Wei Lin (Fudan University, China)
Gouhei Tanaka (University of Tokyo, Japan)
Jae Kyoung Kim (KAIST, Korea)
Scientific committee
Pingwen Zhang (Peking University)
Qing Nie (Peking University & UC Irvine)
Eun Ok Jung (Konkuk University)
Yasumasa Nishiura (Tohoku University)
Hyeonbae Kang (Inha University)
Sponsors
NSFC Tianyuan Foundation
NSFC Key Project for A3 Foresight Program
Key Lab of Mathematics and Applied Mathematics (PKU), Ministry of Education
Beijing International Center for Mathematical Research (BICMR)
PKU Interdisciplinary Research Laboratory of Mathematics and Biology (Bio-Math Lab)
Speaker List (* Plenary speaker)
Luonan Chen (Shanghai Institutes for Biological Sciences, CAS)
Kwang-hyun Cho* (KAIST)
Jianfeng Feng* (Fudan University & Warwick University)
Hao Ge (Peking University)
Dan Hu (Shanghai JiaoTong University)
Ah-Ram Kim (Handong Univ)
Jae Kyoung Kim (KAIST)
Yangjin Kim (Konkuk Univ)
Gen Kurosawa (Riken)
Chang Hyeong Lee (UNIST)
Eun Ok Jung (Konkuk University)
Tiejun Li (Peking University)
Jinzhi Lei (Tsinghua University)
Wei Lin (Fudan University)
Shinji Nakaoka (University of Tokyo)
Qing Nie (Peking University & UC Irvine)
Mariko Okada* (Riken)
Koichi Saeki (Graduate University for Advanced Studies (SOKENDAI))
Eun Bo Shim (Kangwon National Univ.)
Gouhei Tanaka (University of Tokyo)
Accommodation and Travel information
BICMR will accommodate all speakers in "Zhong Guan Xin Yuan" Hotel. The hotel is across the street of Peking University Campus, about 10-15 minutes' walk to BICMR.
Hotel address: "Zhong Guan Xin Yuan" Hotel (Zhongguanyuan Global Village) No. 216 Zhongguancun North Road, Haidian District, Beijing 100871, China
Hotel website: www.pkugv.com
Hotel Tel.: + (86 10) 62752288
Other participants are responsible for arranging and paying for their own reservations for hotel accommodations.
Registration
There will be no registration fee. The deadline of registration is April 10th, 2016. If you have any questions, please feel free to contact us.
Contact
Tian Tian, email: ttian@math.pku.edu.cn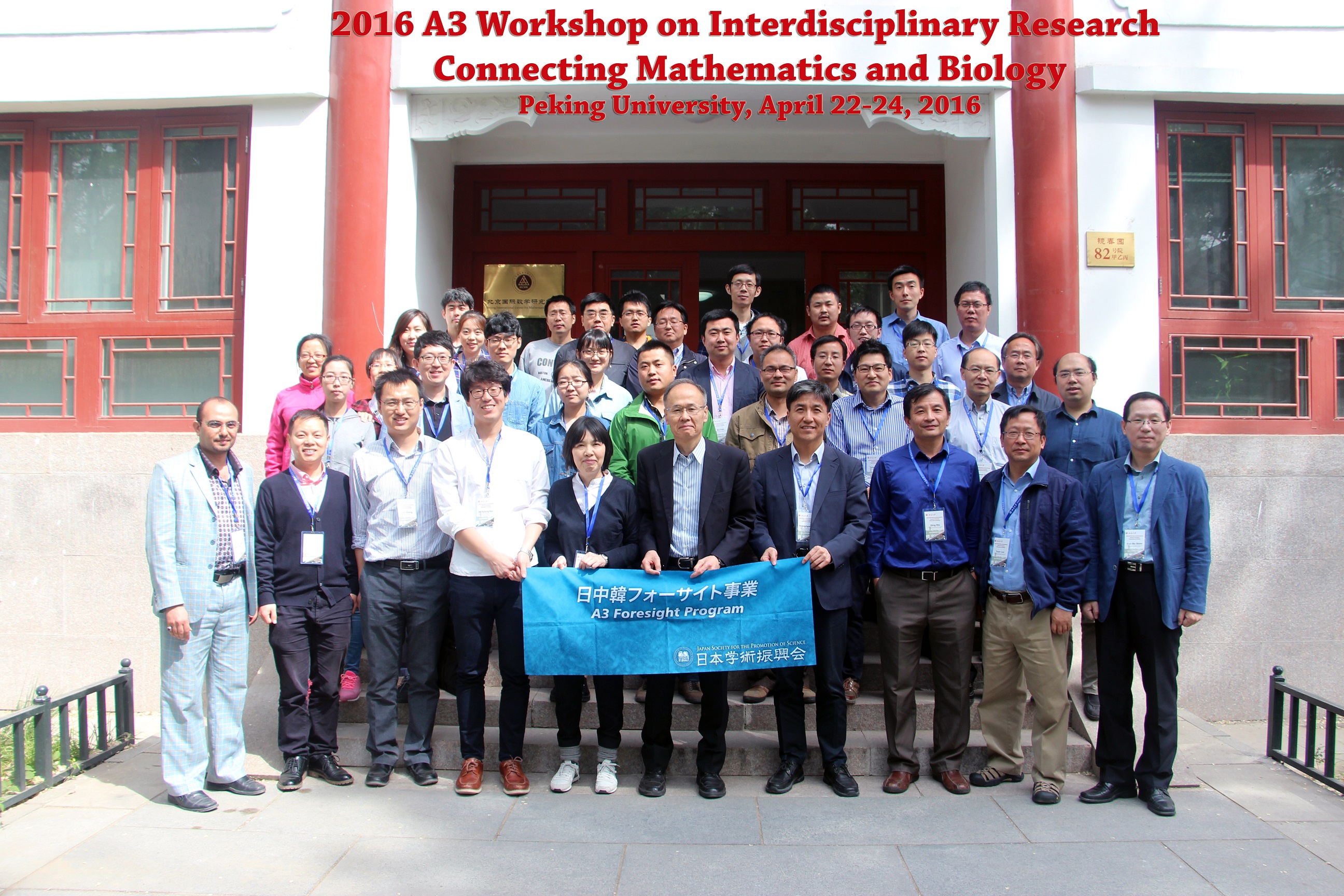 Please visit http://bicmr.pku.edu.cn/content/show/7-31.html#ad-image-0 for more pictures.